A Leaky Roof at the Glendale Galleria
1/26/2022 (Permalink)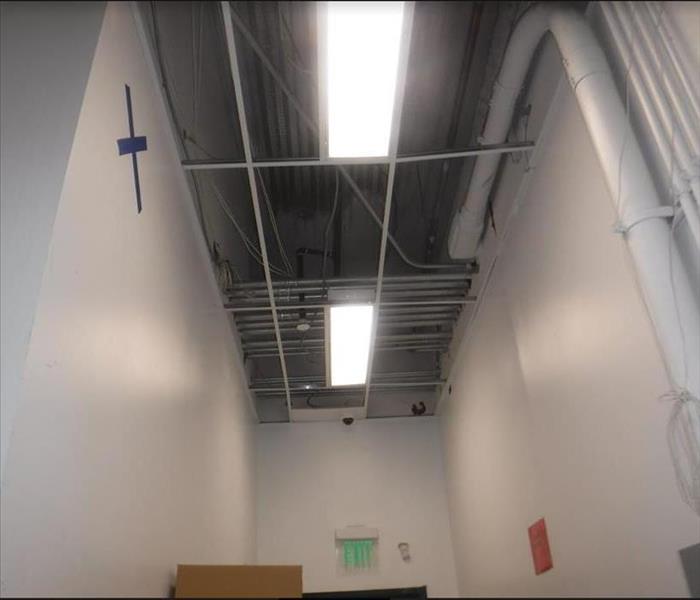 SERVPRO of Central Glendale's certified water damage techs marked a blue "X" where water damage was found.
When a storm hits Los Angeles, so does SERVPRO of Central Glendale.
Last week, our crew helped the nice property managers that manage the Glendale Galleria. The heavy rain wreaked havoc on the roof, forcing storm water to leak into the building.
The water damage technicians of Glendale's very own SERVPRO were onsite in minutes. Greeted by a property management representative and mall manager, our lead technician evaluated the damage, took lots of photos. He also took measurements of the damaged ceiling and sketched a small blueprint of the surrounding area, which was one of the hallway entrances for mall employees. The lead tech eased the managers by assuring them it was a roof leak that could have turned disastrous if it wasn't taken care of.
After the paperwork was signed, our certified water damage technicians got to work extracting the storm water that had fallen through and flooded the walkway with an inch of water. Two of our most experienced techs climbed up 20 feet to the roof and tarped the hole. Since there was a break in the rain, our techs were able to go up and tarp it safely. Once the hole in the roof was securely covered, the lead technician checked the ceiling and surrounding drywall with a moisture meter to confirm there was no moisture from the rain that may have seeped through it. Unfortunately, there was a small section of drywall towards the ceiling that was wet, which had to be removed to prevent an even bigger mold problem.
Although there was some minor storm damage done to the drywall, the crew saved as much as they could. At the end of the day, SERVPRO of Central Glendale's own water techs saved the Glendale Galleria thousands of dollars by handling the storm situation as soon as possible and avoiding mold. If the southern California rains have given your property water damage or you suspect a mold problem, give our office a call at 818-246-2200 to see how we can help today.