Rain in the forecast for California fire areas brings concern over possible debris flow
11/20/2018 (Permalink)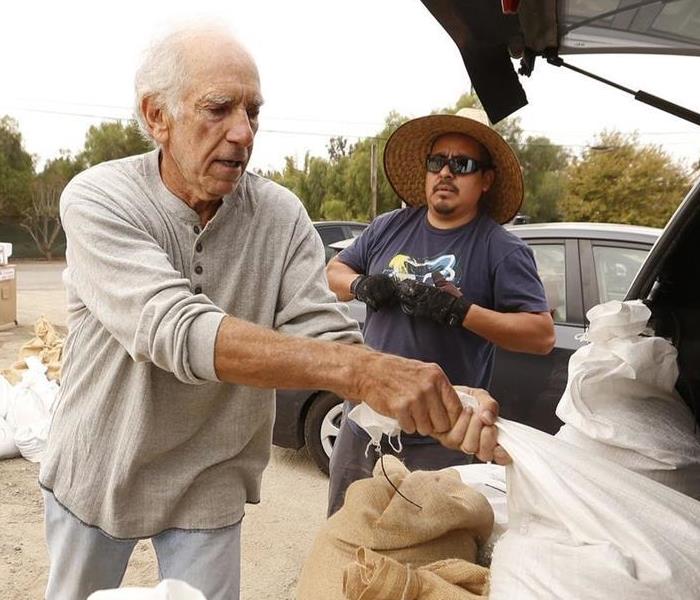 Victor Lobl, loads sandbags provided by the LA County Fire Department on Monday with the help of friends to protect what's left of his home
or residents whose homes were spared by massive wildfires burning throughout the state this month, rains expected this week are prompting concern about another potentially destructive and deadly phenomenon: mudslides.
Weather experts said that rain is likely to fall midweek over areas recently affected by the Camp and Woolsey fires. The area hit by the Woolsey Fire, which spread west of the San Fernando Valley and burned to the coast, is expected to see between half an inch to an inch of rain late Wednesday into early Thursday. Showers could linger into Thursday morning, said David Sweet, a meteorologist with the National Weather Service in Oxnard.
The Woolsey blaze ravaged nearly 97,000 acres and destroyed 1,500 structures in Los Angeles and Ventura counties. Three people died and three firefighters were injured.
Heavier precipitation is anticipated in Northern California, in the area of the Camp fire. A series of storms beginning early Wednesday and lasting through Saturday is expected to bring 3 to 5 inches of rain. That fire charred 151,000 acres and destroyed more than 12,000 homes. The death toll of 79 is expected to rise as workers comb through the ruins.